LC Movers and Storage are THE local, family run house removal company. Our aim is to offer a personal service with a professional touch. We provide you with uniformed, trained knowledgeable staff to ensure that your move is stress free. All vehicles are equipped with relevant items to facilitate the safe removal and transportation of your goods. We also provide you with a dedicated Move Coordinator to help you along the way.
We have been established since 1995, and over time through organic growth have grown the services we offer. Not only do we offer local and national removal services we can now offer full International Export Packing and Delivery services either by Air Freight or via Deep Sea Transportation. This includes taking care of all relevant documentation
We have a range of vehicles to suit your needs, from 3.5 tonne to 18.5 tonne purpose built vehicles. We can offer various services from a man in a van to a fully managed house relocation service.
We are based in from out offices in Rugeley, Staffordshire and have managed internal storage facilities available on site within our warehouse. We can also offer managed / self service storage facilities across the UK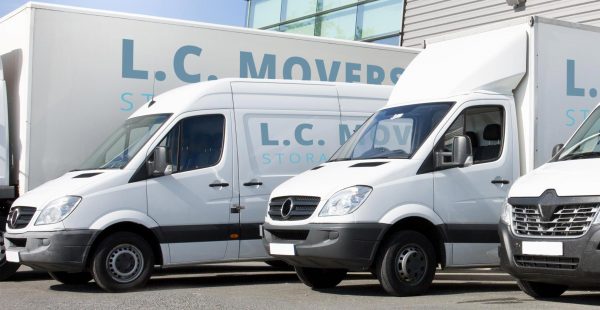 Get a Free Quote
Call us now for a free no obligation quote for your Local, National or International Relocation.
Testimonials
Here's what our Happy Customers had to say about our services:
Very reliable service, very friendly staff, would definitely recommend.
LC Movers cannot be faulted for their punctuality, arriving 8am as promised in London to bring our son, his girlfriend and flat full of stuff. Ben the driver was very professional and was planning the loading process as we went along. We not only finished ahead of time but were able to get back to Lichfirld way ahead of our planned schedule and for that we were most grateful. 5 star service and would recommend them to any and all who need this service. We'll be back! Many thanks to all at LC Movers.
What can I say in fact all I can say is LC movers took the stress out of moving I can not recommend them enough from start to finish they was there nothing was to much trouble for them.
I would have no hesitation in recommending L C Movers. They were excellent. They turned up on time. Got things into the van. Protected furniture so that it wasn't scratched. Unloaded everything and where they were not sure where things should go they asked. Everything was done quickly and efficiently. All at a reasonable price. I have no complaints only praise.
Great service from the team at LC Movers. We had a complex set of moves with some goods going to storage and the team did a great job for us. From the initial engagement and quoting through to the professional attitude from the guys on the day we were really happy with the service. We strongly recommend their services and will certainly be using them again.
Quick Contact
Submit your email address and one of our team will get back to you!